To my forever four year old – Happy 7th Birthday.
Mason. 3 years ago we celebrated what would be your last birthday where you could blow out your own candles.
I remember it perfectly.
You had just had your huge surgery in Toronto, we were told you would be there for your 4th birthday and we would have to celebrate it in the hospital. However, like the superhero you truly are, we were able to bring you home early and spend your last birthday at home.
The night before your birthday we blew up 50 green and black balloons to fill the living room. From each door way we hung black and green streamers. Happy birthdays signs hung everywhere and hot wheel decorations filled every table. We couldn't wait for you to wake up in the morning.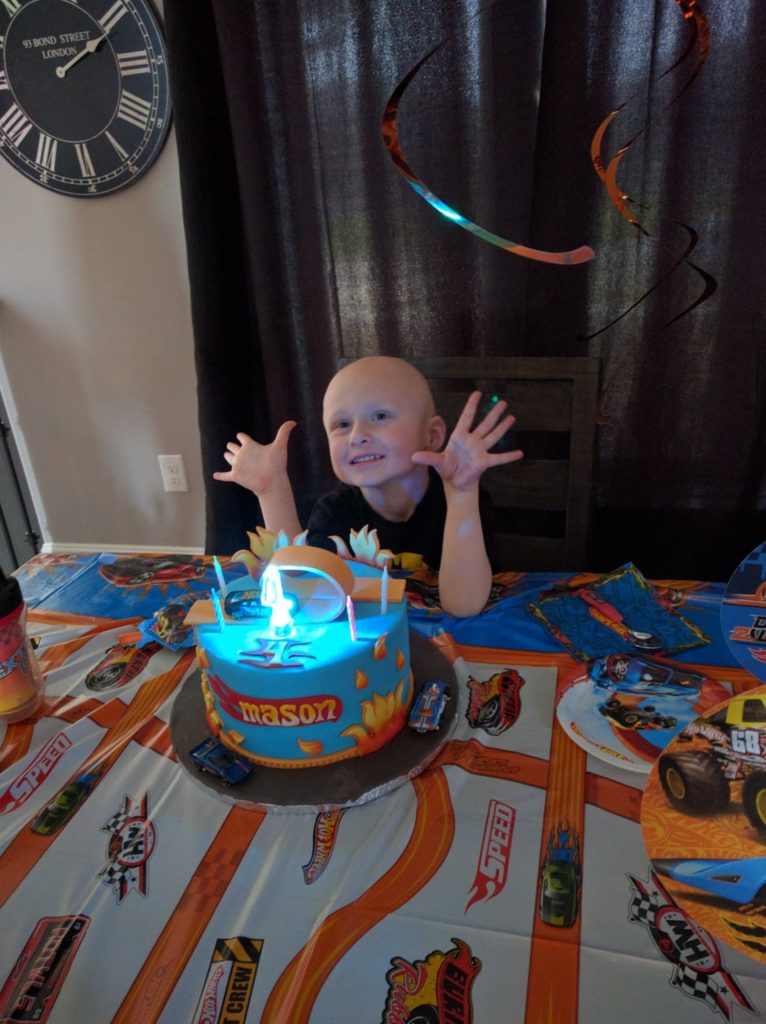 May 9th, 2016 – You woke up , opened your bedroom door and your little voice said with excitement "what the" ( that was one of your favourite expressions) in your over sized pjs, with your face still swollen from surgery, your little feet walked as quick as they could across the floor to see all the decorations that covered our house.
I will never forget that smile, as you walked through all your balloons & streamers your eyes lite up and made my heart so happy to see you smile like that.
As we said happy birthday to you, big hugs and kisses where given. It was your day, and you made sure that we would have one more at home 🖤
A pile of gifts were on the table wrapped in hot wheel paper —- and you couldn't wait to rip them open!! It was a day that we could forget cancer, or the surgery you just had – – it was a day to celebrate what you've accomplished in your 4 years. We played with all your new superhero gear, your Hawkeye bow&arrow nerf was the big hit of the day along with your black panther uniform.
You had asked, while in the hospital, for a chocolate hot wheel cake – and of course we made sure that was made possible. We sang you happy birthday , your face, your smile & your eyes just beamed with happiness. It was the perfect day. It was the best birthday we could have hoped for during those hard few weeks.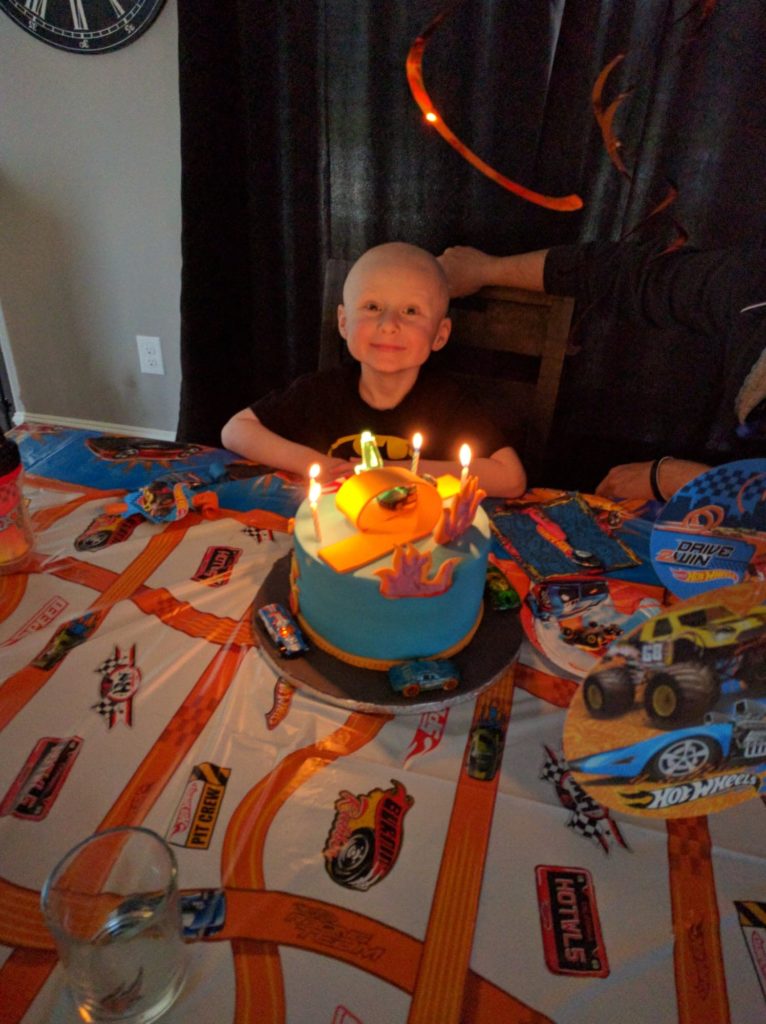 May 9th 2019 – looks very different from that one special day – this time your balloons won't fill the living room but instead will surround you at your forever sleep spot. We won't be able to see your smile or your eyes light up but instead we will look for signs that you are near. We won't be able to cook you your favourite meal or watch you eat cake- instead we will watch as others celebrate you by wearing your superhero logo or superhero gear.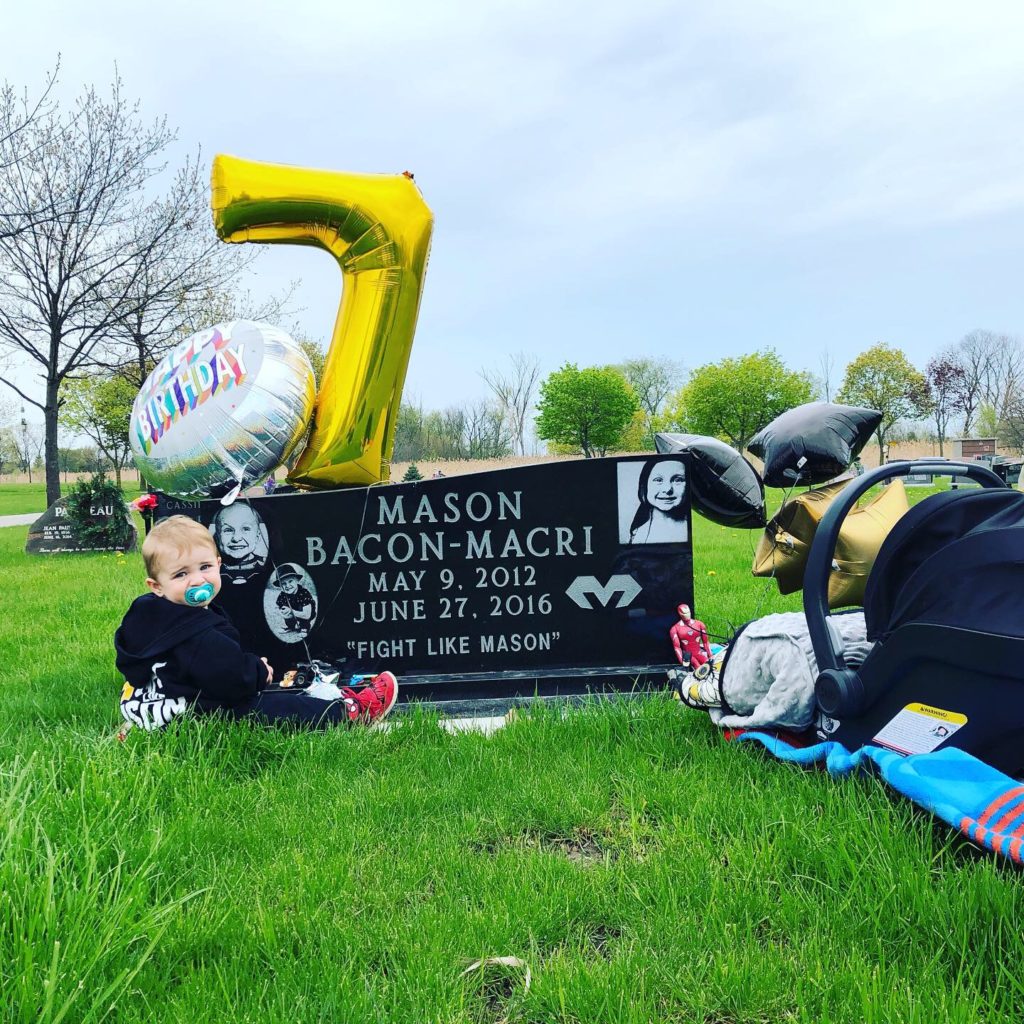 Today we honour you Mase. Your brother&sister will learn all about your favourite things. We will go for the first swim of the year in your pool, we will have one of your favourite meals and we will spend the day as if you were next to us.
I wish I knew you as a 7year old – but in our hearts you are forever 4.
Happy 7th birthday to my main boy who taught me so much and is continuing to change the world.
We love you Mason & I hope you feel all the love from everyone today.