Defeating the Villain for Good
Supporting Childhood Cancer Research
WHY WE ARE PASSIONATE ABOUT RESEARCH
When your child gets a cancer diagnosis you hope that you can give them every opportunity possible to have a fighting chance. However when your child's cancer is not a "common one" or the standard therapies and treatment options become less and less. This is what happened to our Mason.
Fight Like Mason Foundation vows to find & provide funds towards high-risk and high mortality childhood cancers, in hopes that we are able to find new treatment options for our children.
Accountability is a must when it comes to childhood cancer research grants and projects. Researchers must be transparent, be able to provide timely updates and communicate with the donor.
We as individuals have a passion when it comes to defeating the villain for good. Being involved in this process allows us to stress the importance of keeping the children at the forefront. To continue took at them not projects or subjects but as the beautiful individuals that they are.
We strive to find improved and novel treatment options and techniques  that will improve outcomes, especially for high-risk and highly aggressive cancers. Children that do survive their cancers can be left with long term side effects.
To us this isn't a job, its our life. We will never give up until the day we can say " we cured childhood cancer" & no other family have to lose a part of them. We will defeat the villain for good with your help. 
Without cancer research… we would not have cancer survivors.
With only 4% of government funding allocated to all childhood cancers. Fight Like Mason Foundation is constantly searching for new and improve treatment options for children. With over $300,000 already donated to several research projects, Fight Like Mason Foundation will not stop until they defeat the villain for good.
Current Research Projects Fight Like Mason Foundation supports
The 100% Fund is to target paediatric cancers directly that are hard to treat, cancers that have not responded to available therapies. Projects can range from discovery to clinical trials but must be targeted at delivering a treatment intervention. The goal of the 100% Fund is to fund research with the potential to deliver improved treatments and increased survival rates.
How and why was the 100% Fund created?
Nearly one in five children diagnosed with cancer will not survive. For children with uncommon and hard to treat cancers, the odds can be far worse. This is why five honour and family foundation have joined forced to form a Pan-Canada coalition to provide much needed funds into high- risk and difficult to treat paediatric cancers.
Who is part of the 100% Fund Honour and Family Foundations?
The 100% Fund coalition is made up of the Phoebe Rose Rocks Foundation, Team Naomi, Melia's Memory, Team Finn and the Fight Like Mason Foundation. They are backed and supported by Coast to Coast Against Cancer/Childhood Cancer Canada.  Coast to Coast/Childhood Cancer Canada proudly supports the 100% Fund by matching the honour and family foundation's contributions which strengthen each grant. 
LEARN MORE ABOUT COAST TO COAST AGAINST CANCER 
How does the 100% select research programs to support?
Each year the 100% Fund reviews paediatric cancers research proposals and selects who they will support.
C17 Research Network has partnered with the 100% Fund to provide their grant review process which ranks applications based on criteria including clear statement of research, methodology, innovativeness and originality, evidence of collaboration and multidisciplinary approach and impact or application into clinical practice.
The 100% Fund grants are adjudicated and administered by the C17 Research Network.
What is C17 Research Network?
C17 Council is a Canadian non-profit organization that represents the 16 academic paediatric oncology/hematology programs in the 17 centres across Canada.
The Council's Research Network is set up to encourage and develop collaborative, multi-disciplinary, multi-site, Canadian research in paediatric hematology, oncology and hematological stem cell transplantation in furthering C17's mission to improve health outcomes and quality of life for children and adolescents in Canada with cancer and blood disorders.
How to submit a research grant application to the 100% Fund?
If you are a researcher interested in applying for the grant, please click the link below to review and download the guidelines and criteria for submission.
CLICK HERE FOR THE C17 RESEARCH NETWORK
CUrrent research funded
by the 100% fund
What is Project Haystack?
Project Haystack is international collaboration in Rhabdomyosarcoma research lead by Dr. Charles Keller, Scientific Director of the Children's Cancer Therapy Development Institute (CC-TDi).
Project Haystack has screened Rhabdomyosarcoma compounds against 640,000 existing drugs to see if there were any possible new treatment options in existing drugs. The three-day screening provided 30,000 hit, 24,00 good hits and 446 super hits. The top four (4) super hits turned out to be all part of the compound class. This compound class turned out to be a simple type of heart medication that people take on a regular basis with no major side effects.
They could stop the growth of Rhabdomyosarcoma with an existing FDA medicine that a patience could take for decades without side effect.
The next steps for Project Haystack are to move targets into clinical trials:
• Phase 1 will determine what the safe dose is for children
• phase 2 will monitor the activity of the drug in treatment of the cancer
• phase 3 will compare the new drug and its treatment against the best-known existing Rhabdomyosarcoma treatments
Who supports Project Haystack?
Project Haystack is funded by a ground-breaking collaboration of 10 parent-led foundations in a quest to make childhood cancer survivable. The group from Canada, Australia and the United States includes The Elaine Roberts Foundation, The Super Sam Foundation, Juju's Journey (in partnership with St Baldrick's), The Fight Like Mason Foundation, Braver Stronger Smarter Incorporated, Kier's Kidz, The Mary Ruchalski Foundation, the Handler Family, Austen's Army Foundation, and Team Naomi Get Well Now.
Since 2018, the funding collaboration has donated $240,000 which has allowed CC-TDI to hit the ground running to accelerate the project's technological foundations to find the "Needle in a Haystack".
Hold researchers accountable to make results tangible to help children today. 
Why is there a need for Project Haystack and how did it start?
Rhabdomyosarcoma remains one of the top five causes of childhood cancer deaths. Treatments for high risk disease remain the same as the ones used forty years ago. Age has not improved them. They remain woefully inadequate. Rhabdomyosarcoma has only ever had about 600 drugs tested against it. Small disease groups like rhabdomyosarcoma offer limited to no market for profitability and return on investment. We remain at the bottom of the list of priorities for industry and government.
One day in 2018, Sharleigh Stevenson (a bereaved mother who started charity in honour of her daughter who passed from Rhabdomyosarcoma) asked Dr. Charles Keller what he would do if he had a quarter of a million dollars. His response was to fund the preclinical validation of one of the key compounds of a 640,000-drug screen. This massive screen was nearly 1,000 times more comprehensive than anything ever done before for Rhabdomyosarcoma.
TO READ THE FULL STORY ABOUT HOW PROJECT HAYSTACK BEGAN CLICK HERE
Who is Dr. Charles Keller?
Dr. Charles Keller's research focuses on the development of more effective, less toxic therapies for childhood cancers. His special interest in advanced disease has spread beyond the initial location of the cancer or which makes the tumor unresectable.
Dr. Keller has co-chaired the brain tumor developmental therapeutics committee (CNS-DVL) of the Children's Oncology Group and is a member of the soft tissue sarcoma (STS) committee of Children's Oncology Group. He has also regularly been a standing or ad hoc member of NIH/NCI Study Sections.
What does the Children's Cancer Therapy Development Institute (CC-TDi) Do?
Children's Cancer Therapy Development Institute a non-profit biotech lab on a mission to make childhood cancer universally survivable.
There are new discoveries made in research labs, but sadly they are rarely if ever translated into new treatments for children. The process of turning a new scientific discovery into a new treatment is tedious, time-consuming, and rarely generates big profits. Children wait for cures in hospital beds while potential discoveries lie dormant in scientific journals. Today there are still some childhood cancers without any effective treatments upon diagnosis or relapse.
Every year, the FDA approves on average 12 drugs to treat adult cancer, however the FDA has only approved 6 drugs to treat childhood cancer since 1978. The team of team of scientists and engineers at CC-TDi believe its time to do better.
What is Terry Fox PROFYLE?
Terry Fox PROFYLE (PRecision Oncology For Young peopLE) is a pan-Canadian research project for children and young adults ages 29 and under who have been told they are out of treatment options, giving them another chance.
Research centres, top scientists and clinicians across Canada are – for the first time – working together to molecularly profile the tumours of young cancer patients and targeted drug therapies to change the trajectory for young people with relapsed, refractory, and metastatic cancer.
What is molecular profiling?
Molecular profiling is a set of emerging biological tests that looks at an individual's cancer tumour, studying its genetic characteristics and any unique biomarkers. The information gathered will be used to identify and create therapies that are designed to target a specific cancer tumour profile, so patients can enjoy a better quality of life and live longer.
The Terry Fox Research Institute seeks to advance our understanding, diagnosis and treatment of cancer with the goal of improving significantly the outcomes of cancer research for the patient. TFRI supports research through a highly collaborative, team-oriented, milestone-based approach to attain this goal.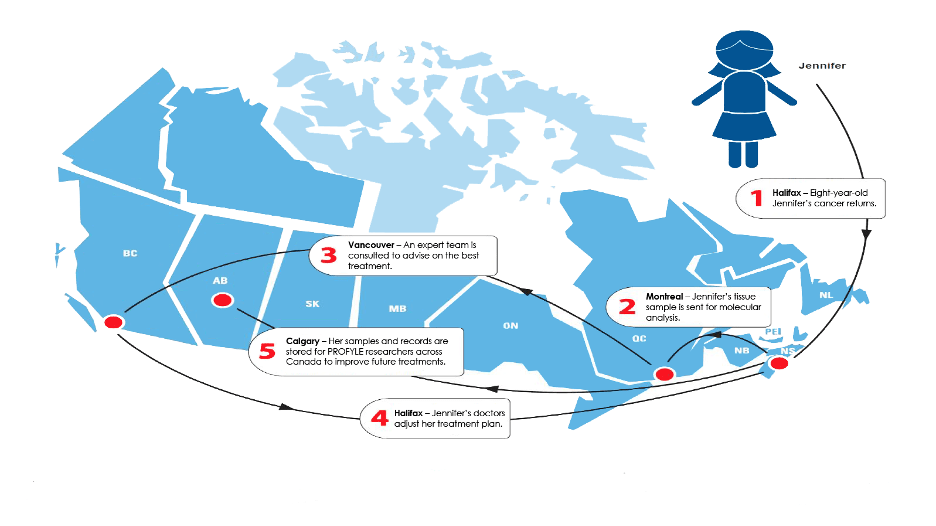 PROFYLE is a 5-year project that is catalyzed by $5-million of funding form the Terry Fox Research Institute. Partnerships with several institutions and hospital foundations as well as other philanthropic agencies will ensure that sufficient funding is available to provide access to PROFYLE to every eligible patient across Canada.
How does the Fight Like Mason Foundation support PROFYLE?
In early 2020, the Fight Like Mason Foundation partnered with Children's Hospital, London Health Sciences Centre is ensuring that the pediatric oncology patients of Southwestern Ontario rightfully gain access to state of the art technology and care in their home institution.
The Fight Like Mason Foundation knows that if PROFYLE was available locally when Mason's tumour returned and spread, his tissues samples would have been sent for molecular analysis and his treatment plan could have been adjusted. In addition to his own treatment, the insight gained by Mason's molecular analysis would have been able to help other children with their own fight. It is because of this, that the Fight Like Mason is the primary financial support for PROFYLE in Southwestern Ontario and they will continue to support this revolutionary initiative.